Candace's Week 2 Update
"Week 2 of my GRIT by Brit New Year Kick Start Plan was a bit quiet, I was able to get in a couple of workouts early in the week and stick to my eating plan. My challenge plans were a bit derailed due to travel to DC later in the week. I did try doing sit-ups and push-ups while watching TV one evening. I was able to knock out 200 crunches and 100 push-ups during commercial breaks. It was a great way to burn calories while watching my shows. Unfortunately, I'm up 1 lb. from the end of week 1. I'm looking forward to getting back on track and going hard in week 3." – Candace
(below – sit ups with a dumbbell during commercial breaks)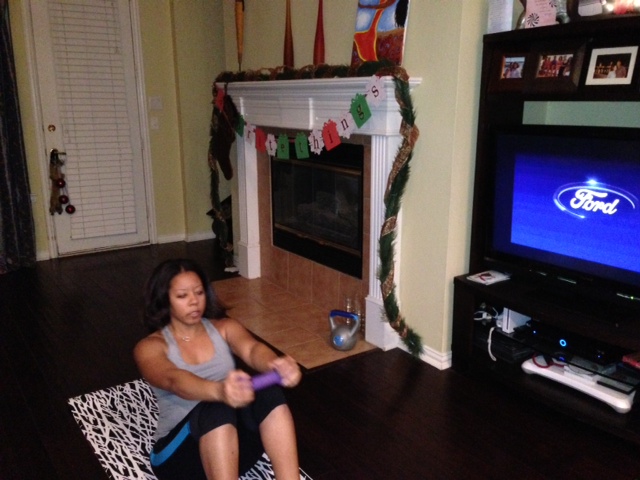 (below – Candace knockin' out some push ups to tone the core and upper body)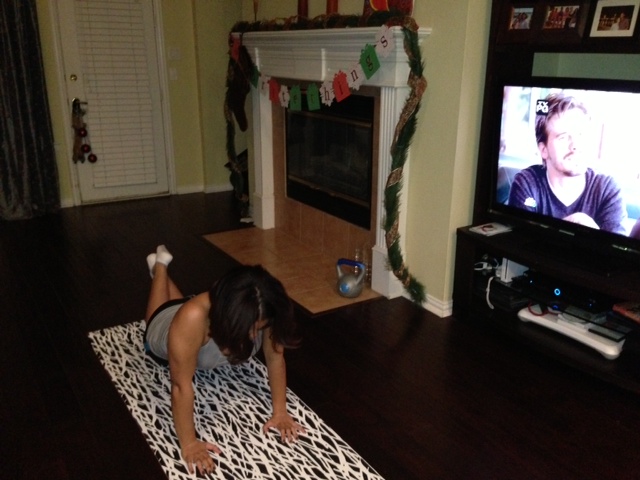 Brit's Tips for Candace
Great job staying active despite not going to the gym every day.  "Commercial Break" exercises are effective and efficient so keep it up!  Next time take up the intensity and do some jumping jacks, burpees or squats during commercial breaks.  These exercises burn more calories and engage more muscle groups.
Be extra strict about sticking with your  eating plan this final week, especially on days that you miss a workout.  It's important to keep the calorie intake down on these days since you won't burn as many calories during the day.
Have a little black coffee in the morning for an extra jolt.  We know that coffee, in moderation, increases your energy and focus to help give you a push in this last week.
Most importantly – STAY POSITIVE.  This is the final push and you are well on your way to achieving your goal.  You got this!