Happy Hump Day Friends!  I hope your week is going well.  I'm counting down the days until my boyfriend and I jet set to Mexico for a much-needed vacation!  The past couple of weeks have been crazy busy planning social events for my fitness studio, teaching classes and attending fitness conferences BUT I wouldn't have it any other way.
While we intend to spend most of our time being lazy on the beach, we're both gym rats so we made up some efficient and effective Tabata workouts to knock out in the hotel gym.  Tabata is a Japanese form of High Intensity Interval Training (HIIT).  You can click here to learn more.  Here's the workout we tried out last week and really enjoyed.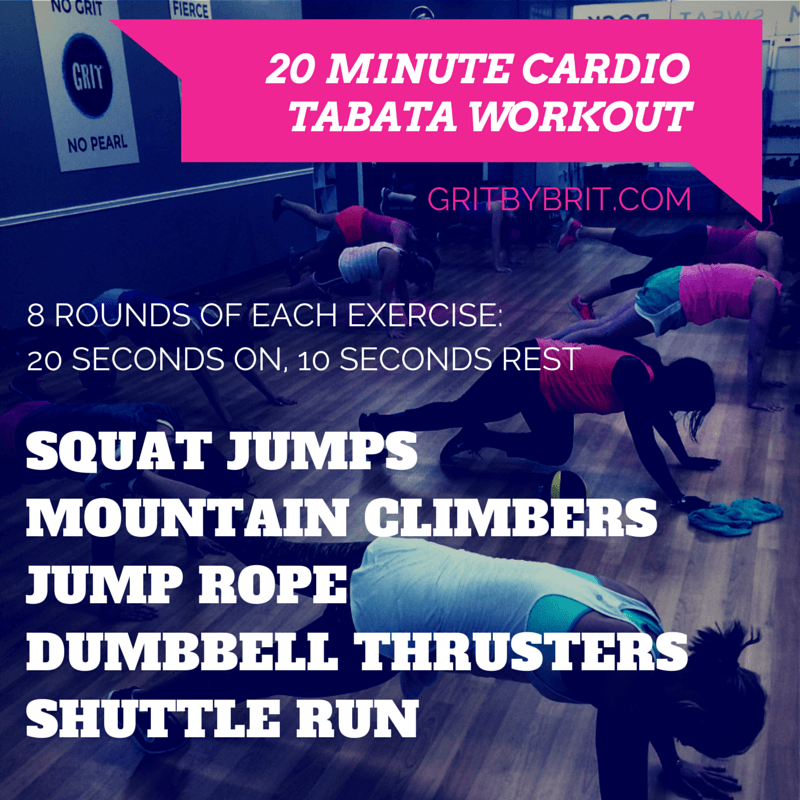 If you want to try the workout, be sure to warm up with light/moderate intensity cardio for 3-5 minutes (e.g. jumping jacks, jog, stationary bike). Also, you will need 1 set of medium/heavy dumbbells (5-10 pounds) and a jump rope. You can expect to burn 200-300 calories in 20 minutes. Better yet, interval training shocks your body so you keep burning calories even after your workout. YEAH BUDDY!
I hope you enjoy and have an awesome day! xoxo, Brit