Hello friends! I hope you're having a wonderful week. As a lover of all things fitness and all things Dallas, I was super excited to stumble upon a new Dallas blog providing objective, thorough reviews of the city's hottest fitness studios and classes! D Town Sweat launched only a month ago and has generated a huge following due to its honest studio reviews and thorough class assessments. After a few hours of Instagram stalking, I found the voice behind the blog, Kate Putney. This TCU grad is a management consultant by day and fitness blogger by night (AKA Girl BO$$) I met Kate last Saturday when she came to my studio and knocked out back-to-back workouts. Check out her reviews of our Flexin' Flow and Body Sculpt classes. Afterwards Kate and I had coffee and I got to learn a little more about her fitness and blogging journey. Here's the scoop…
What motivated you to start D Town Sweat?
With shared studio memberships hitting the Dallas market, I've had a lot of friends recently incorporate a consistent fitness routine into their daily lives, and I've been so proud of them for making that commitment to better themselves. I've been a life-long runner, but I too started exploring Dallas studios, and often wondered what to expect when heading to a new class, or what else was out there in terms of yoga, cycling, strength etc. I tried to find a single location to read honest and thorough studio/class reviews, and while there are a few other bloggers that do an awesome job of blogging about fitness, I couldn't find anything that was just Dallas fitness, and really honest and straight-forward. After a few weeks of searching around, I figured, why don't I do it? I have always enjoyed reading fitness blogs like Wisdoms of Health so I knew what made a good one. I want to help connect people in Dallas to fitness that's right for them, and I hope that D Town Sweat will be that resource.
Describe your fitness journey.
My fitness journey started with my mom. From the time I was a baby, I ran with my mom – first in a jogger, then next to her on a bike, and finally with her, starting in middle school. She always took time out of her day to focus on her health, and by prioritizing fitness, she engrained in me the importance of taking care of my body, no matter how busy life or work gets. I ran my first 1/2 marathon in high school, and my first full marathon at 24. I recently ran the Dallas Marathon, and soon after decided that it would be beneficial for my body to try to mix up my fitness routine, which is where D Town Sweat comes in.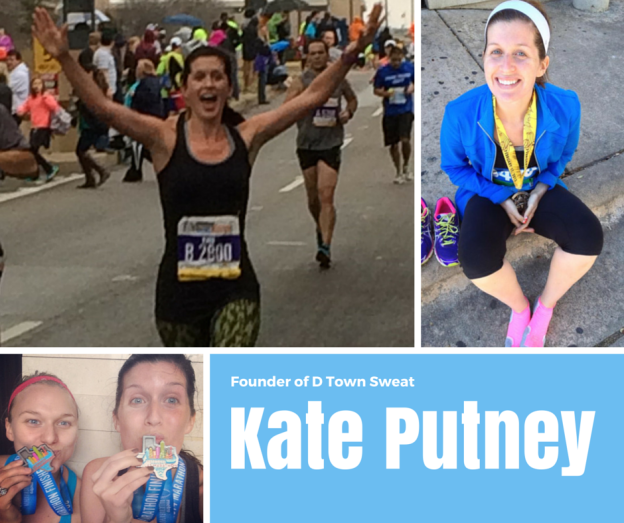 How do you define a "healthy lifestyle"?
A healthy lifestyle to me is a balance, and not just a balance of fitness and food. I think in order to truly be healthy, you also need family and friends, a community, faith, a work-life balance, adventure, and stability. Fitness and eating well are part of the overall picture, but if you workout and eat well, and live in isolation, or work yourself into the ground, you're not living a healthy life.
What's the most interesting/unique fitness class you've taken?
The fitness class that comes to mind as being one of the most unique is a Big Kahuna class I recently took at City Surf. A fitness class on a surfboard is most definitely unique, and surprisingly really hard! I would recommend it to anyone in Dallas who is looking to try something completely different! No prior-surfing skills required!
What do you love most about group fitness?
I love being able to turn my mind off completely, and let my body do all of the work. I spend lots of time in front of a computer, so letting my body have a chance to take over, and giving my brain a break is definitely one of my favorite things. The other thing that I love is that it's an opportunity to spend time with friends. At least 50% of the classes that I attend are with friends, so it's a fun way to spend time together and feel productive.
In your opinion, what 3 factors make the city of Dallas great?
It's in Texas – After living elsewhere, and traveling far and wide, I feel strongly that there is no other state that has so much to offer.
The People are great – I went to TCU for undergrad, so lots of my close friends landed in Dallas after graduating. Besides the people who I already knew when I moved here, people are just nice here.
The Community – Between the cost of living and the job opportunities, I think that Dallas is one of the best places to be from a job perspective, which draws a lot of really great people into our city. As a result of the awesome people here, there are so many organizations doing really cool things to better North Texas, and the greater community. I'm proud to be in a place with so many good apples.
What does "grit" mean to you?
Grit means grinding through the tough stuff – working harder and smarter, even when it's really rough, because you know the end result will be worth it.
I highly encourage you to add D Town Sweat to your RSS feed. With new posts almost everyday, you don't want to miss the latest trends in Dallas fitness! You can follow D Town Seat on Instagram @dtownsweat or on Twitter @dtownsweat
Have a happy, sweaty, super day! xoxo, Brit