Hello Friends! I hope this post finds you joyous and well! Today I want to share a new beauty find I recently discovered and absolutely love! Now keep in mind that I'm super picky when it comes to facial skin care products because my skin is a little on the oily side and I loathe looking shiny. Especially in the Summer it's difficult to find a moisturizing treatment that's non-greasy (hello 100+ degrees in Dallas). However, I appreciate the importance of adequate skin moisture for wrinkle prevention and healthy PH balance.
That said I've been trying out Biossance Revitalizer which is unlike any facial moisturizing treatment I've used before. First off, it's made from Squalane which "replenishes your skin by using a moisturizer found naturally within you." It's formulated to restore your own biological beauty. Added bonus, you can also use the Revitalizer on your cuticles, dry skin patches or as hair serum for shine.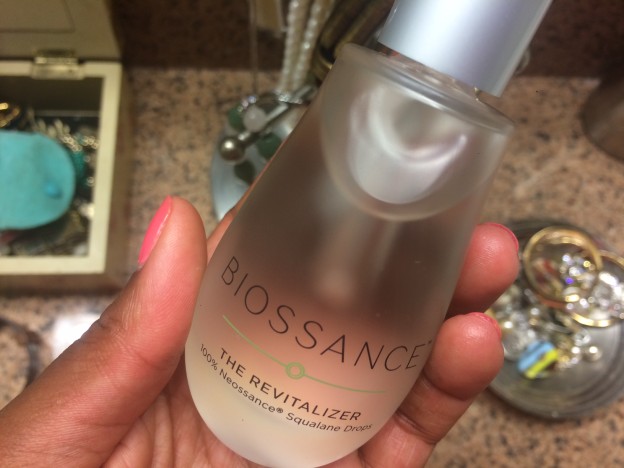 I decided to try the Revitalizer for 30 days as part of the Biossance 30 Day Embodied Project. A lot can happened in 30 days – we can transform our bodies, our minds and our skin! So for the past month I've followed a very simple 2-step summer skin care regimen:
Every morning, wash my face and apply oil free SPF 15 sunscreen
Every night, wash my face and I apply 2-3 small drops of Biossance to my face and neck before bed
I can honestly say that my skins feel revitalized, super smooth and not oily despite the blazing temperatures outside. I took a selfie before bed last night to show off my complexion – I'm super impressed.
What's your Summer Skin Care regimen?