Whoa what a weekend! I had my first partnership with NIKE – one of my all time favorite brands. Last week NIKE reached out to me to choreograph a fitness/fashion show for their pop up shop at Nordstrom here in Dallas! This was such an amazing opportunity, because it stretched my abilities…big time! A wise mentor once told me, "if you're fully prepared for an opportunity, that means the opportunity isn't that great. It's the scary opportunities that you aren't fully prepared for that propel you to the next level." Well let me tell ya, the NIKE show we pulled off this weekend was DEFINITELY a stretch opportunity! I'm so excited to share that the event was a huge success and exceeded expectations! Here's a quick recap of how everything went down…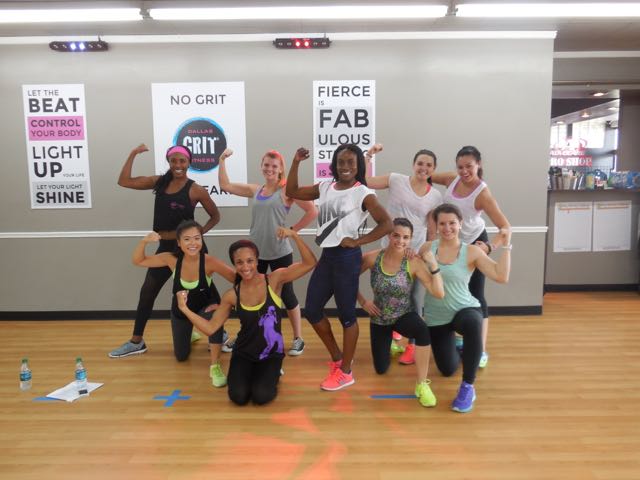 On Friday, a fabulous group of NIKE Trainers from the University of Texas at Austin drove up to Dallas to star in the Pop-In show alongside some of my very own GRIT Fitness instructors. We immediately clicked and I LOVED how psyched they were after me and my sister, Kortani, showed them the routine.After a practicing all Friday afternoon, the girls then had a dress rehearsal Saturday morning at Nordstrom Dallas NorthPark Center (while I was busy teaching my signature Flexin' Flow class at the W Dallas Hotel) – ahh if only I could be in 2 places at once.
Here's a quick pic of my class on Saturday morning…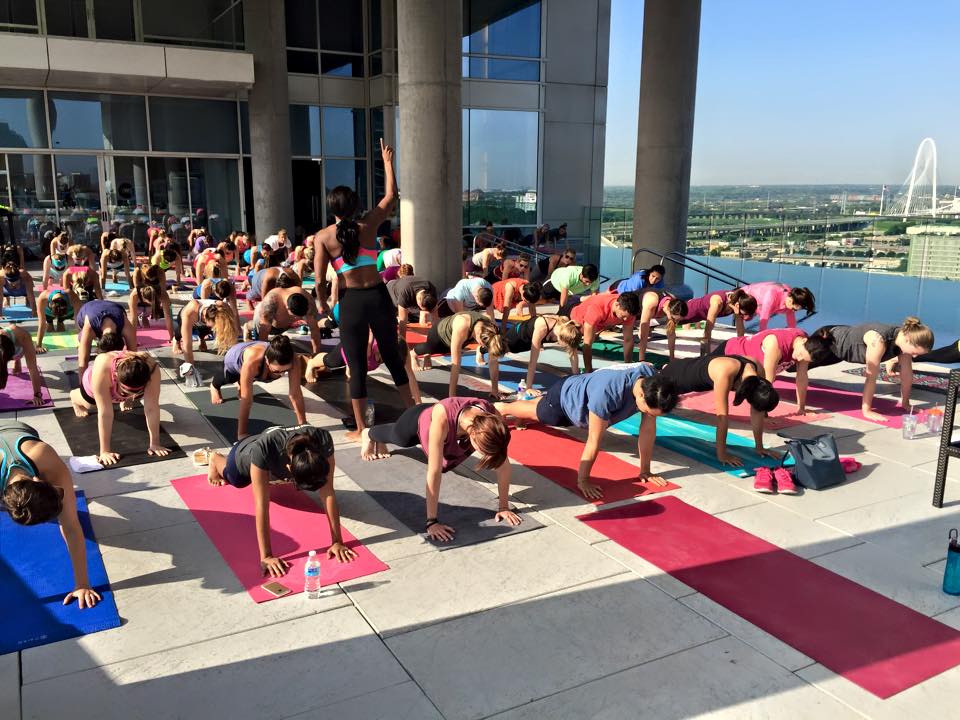 After teaching my Flexin' Flow class on the W Hotel Wetdeck, I quickly changed clothes (no shower – ewww) and jetted over the NorthPark to do one final run through with the girls before the first show at noon! Here's a pic of us backstage after running through the routine one final time…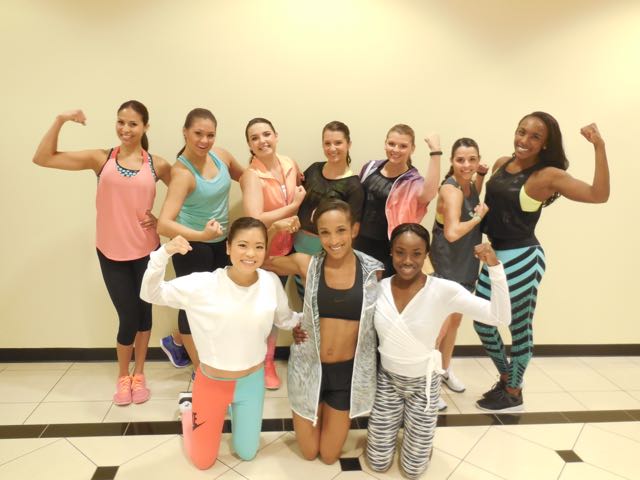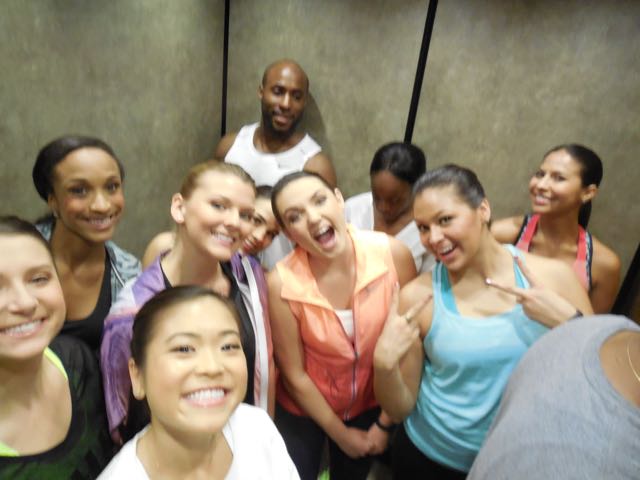 And here's a pic of the crew on the elevator to the first floor getting ready to go on stage for the first performance!
The show went off without a hitch and was SO much fun! We got lots of cheers from the crowd! Here's a link to the video of the full 10 minute performance. Afterwards, these sporty sister girls posed for the camera to show off all of their hot NIKE gear and hot bodies 🙂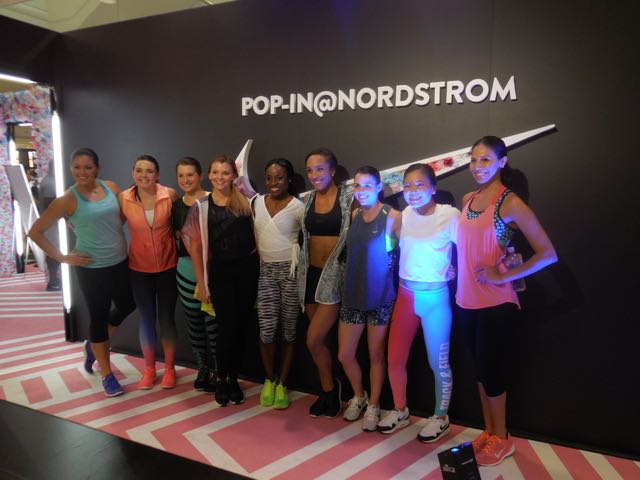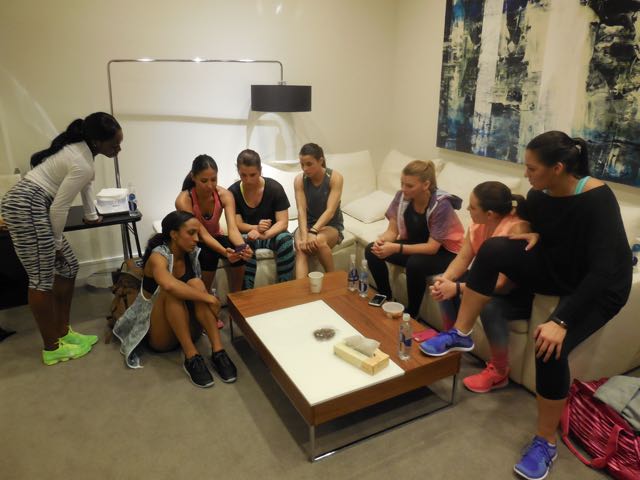 After the first show, we chilled backstage and watched a video of the first performance..and ate a yummy lunch. Then around 2:40 we got ready for the 2nd show.
The 2nd show also went off without a hitch and I was super excited that some my best friends / GRIT Fitness clients came to support us!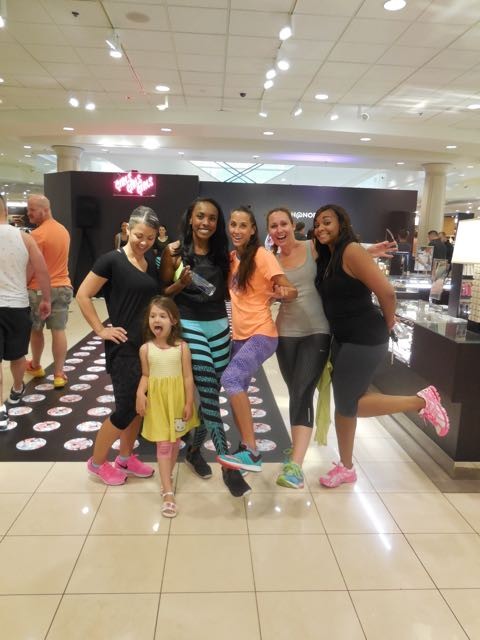 All in all Saturday was a HUGE success.  Today I'm feeling accomplished and VERY blessed! Wishing you a wonderful week ahead.  JUST DO IT! xoxo, Brit