Ah springtime…out with the old and in with the new. I love spring because it feels like a fresh start! I usually try to rev up my workout regimen, get super strict about taking my daily multivitamin and drink 2 liters of water per day. I recently discovered Airborne® Everyday, which is a dietary supplement that has similar immunity boosting benefits as the traditional Airborne effervescent tablets PLUS a multivitamin.
I've always been a fan of Airborne® effervescent tablets. I started taking them back in college to boost my immune system through the extreme winters in Ithaca, NY. Every morning before practice, I'd drop one of those bad boys in a cup of water, watch it fizz and gulped it down. A good sweat session, lots of water and my daily Airborne® was my go to solution for staying fit, happy and healthy.
I tried Airborne® Everyday the past week and I really like it. Each morning I chewed up 2 gummies in place of my daily multivitamin – much more enjoyable than swallowing a giant horse pill. Also, I didn't feel nauseous as I often do after taking my multivitamin. The amount of vitamins and minerals are pretty similar to those in my multivitamin so I wasn't missing out on any nutrients. Plus, I received the Airborne's® crafted immune support. On the down side, there are 6 grams of sugar per serving. (I figured I'd make up for it by adding some extra burpees to my classes at GRIT Fitness – wink wink). Overall, I think I'm going to make Airborne® Everyday a part of daily routine this spring.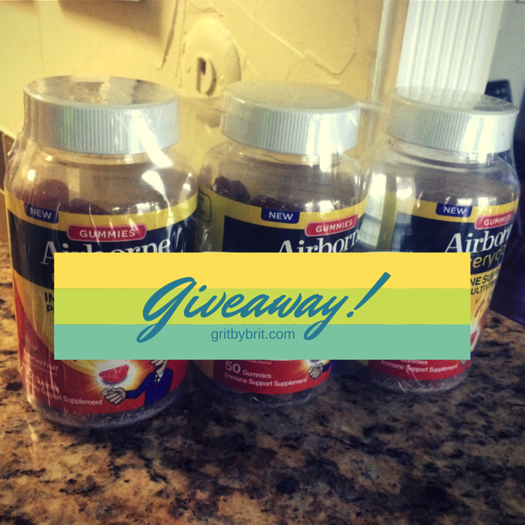 What's your daily immune support solution? Post a comment with your answer and you can win a 3-pack supply of Airborne® Everyday! Here's to a happy, healthy spring! xoxo, Brit
Disclosure: I have been compensated with free product but the opinions are mine.