Fall is fully underway – yay! I've filled my house with pumpkin scented candles and brought my scarves and boots to the front of my closet. One of my favorite things to do this season is revamp my workout wardrobe! Of course I made a stop at Target® to check out the Fall C9 Activewear collection (never lets me down). I can't beat the prices and I'm always impressed with the trendy styles and bright colors.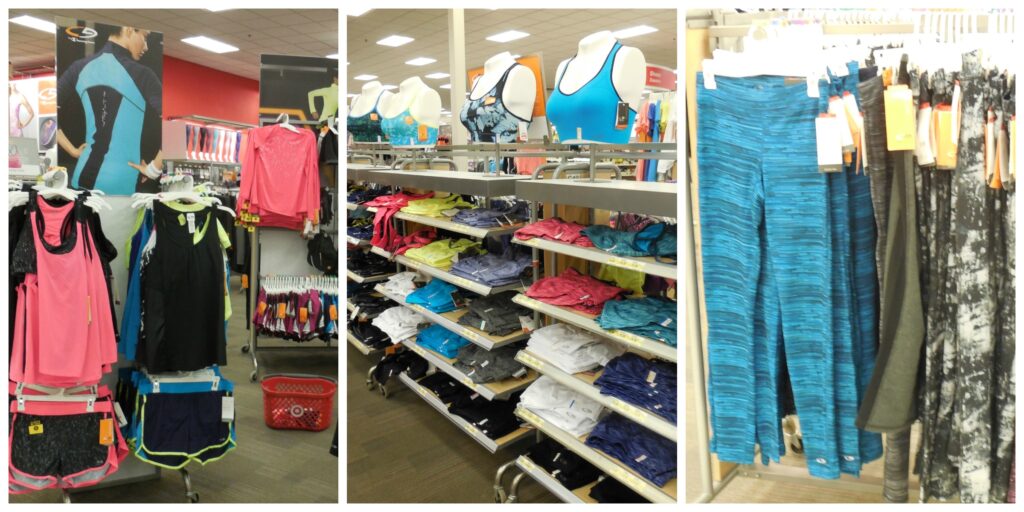 During my visit to "Tar-jay" I immediately fell in love with the printed leggings (above on the left). Typically I have to search shops online for leggings with cool funky designs and I end up paying close to $100 for them. I was thrilled to find several prints of leggings all under $35. I threw a few pairs in my shopping cart and continued on my quest…
It's critical that I keep a giant stash of sports bras because I teach 7 fitness classes per week – I can never have too many. Lately I've been putting together some cool looks with bright neon sports bras under sheer tanks, so I picked up a few of the C9 Racer bras to try on along with my leggings.
Before I headed to the fitting room, I also checked out the cute matching tank and tights sets. You guys know I love to match. I also saw the layered tank and running shorts combo that I bought earlier this Summer, now offered in darker colors. I wanted to try on some of the C9 long sleeve, dry-fit running shirts as well, but I ran out of time. I love these long-sleeve tops and actually put them on my holiday gift picks list 2 years ago. They are still a personal favorite.
Once I got into the fitting room and tried on my pieces, I immediately fell in love with the leggings. I'm super picky about how my leggings fit. They need to be snug enough to suck everything in but not so tight that I have a love handle rolling out of the top. These passed the test. I like C9 printed leggings so much that I bought 2 pairs (blue & gray – seen below). Naturally I took some selfies because I was happy with the way I looked. Hey girl hey!
I also tried on several sports bras to go with the leggings. C9 has many types of sports bras that provide different levels of support based on bust size and type of activity. Regardless, most of the C9 sports bras are reversible, which I love. The one I decided to get is solid coral on one side and has a coral/purple pattern on the other side. I paired it with the blue patterned leggings for the perfect color combo. I prefer bright colors over darker ones – I think they look better on my chocolate skin (wink wink).
I've decided that the sports bra + leggings combo is my signature style this Fall. I usually add a big infinity scarf or an oversized tank top for a layered look. I especially love to rock this look when I'm teaching indoor cycling. It keeps me cool in the sweaty cycling studio.
Overall, I am very happy with my purchases and excited to "Fall into Fitness!"
What's your favorite fall activewear? Do you have a signature "gym style"?
Disclosure: This post was sponsored by Target® C9 through their partnership with POPSUGAR Select. While I was compensated to write a post about Target® C9, all opinions are my own.