Hey friends! As I mentioned in my last post, I'm making a personal commitment to post at least 1x per week in 2017. Man….I tell you what….it's harder than I thought. I know I have to set aside designated "blogging time" to reestablish the discipline and rigor I once had around writing. That's why I love the quote above so much…it's so true! If I don't plan, I'm essentially "planning" to not achieve my goal.
As small business owner, efficient time management is critical for survival because I have limited resources and am consistently forced to do more with less. So I thought "Time Management" would be the perfect topic for this blog post. Now I'm not the most detailed nor the most talented person, but when comes to getting sh*t done, I don't mind tooting my own horn. People ask me all of the time, "How do you do it?" And the short answer is, I'm NOT a perfectionist. I prioritize the most critical tasks required to achieve my BIG goals. And I plan everything! I actually have some strategy around how I plan my week and how I think about each day as an input into the greater whole. I also operate under the core belief that DONE is always better thanks PERFECT, thus I'm not a perfectionist.
Below is my personal 5 step approach for strategizing and managing my time. Now, most people probably have a day planner and they just pencil in everything that pops up on their "to-do" list. Not my style. I create strategy for my entire week and then slot my activities into my "ideal outline." Let's dive a little deeper…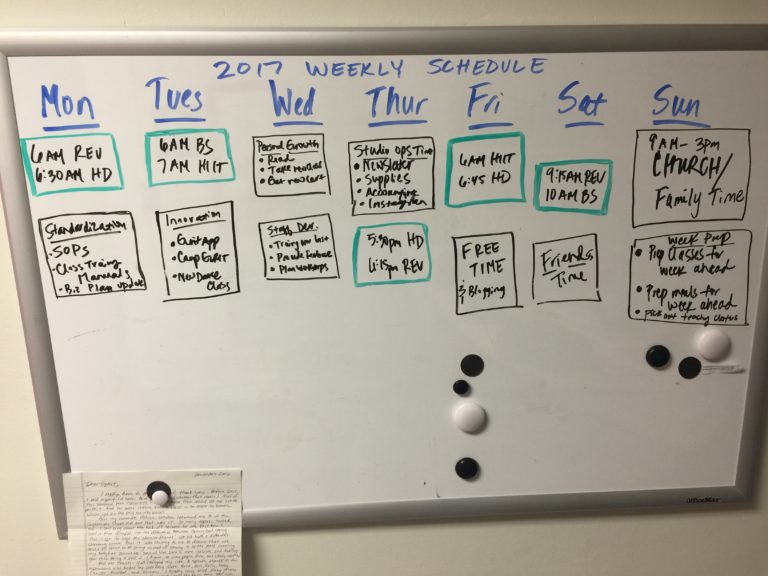 STEP 1: CREATE AN OUTLINE OF YOUR ENTIRE WEEK BY FIRST BLOCKING OUT THE NON-NEGOTIABLE TIME
As you can see above, I think about my week as a whole, and set aside designated time to work on the things most critical for achieving my BIG life goals. In doing so, I essentially have a "template" for my day planner and give myself structure so that I'm in control of my time, and random stuff that pops up can't control me!
Obviously, I have to be physically present at work at certain times, so I block this time in green. For me this is when I'm physically teaching classes. So step 1 for you, think about your entire week and block out the time that is totally non-negotiable for your livelihood (i.e. weekly work and family commitments)
STEP 2: EVALUATE YOUR PERSONAL GOALS AND BLOCK TIME TO WORK ON THEM
Then I review my list of goals for the year and think about what specific actions are required to make them come to life. For example, I want to continue to grow my business and innovate new services for our clients. So, I have to block a few hours on my weekly calendar for "Standardization" and "Innovation." During these time blocks I document our business processes, develop training manuals, create new class formats and work on strategic brand partnerships. Notice that nobody is "making" me do these things, but I have to make a personal commitment to myself to work on these things. Otherwise, 6 months will pass and I realize that I've made no progress.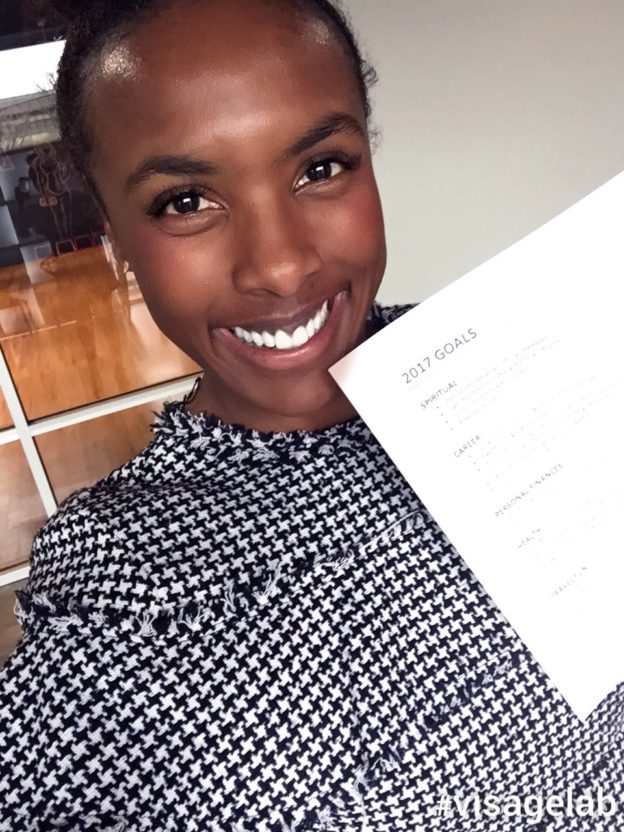 Another example is time for my relationships. On my 2017 goals, I stated that I want to continuously strengthen my relationships with my friends, family and myself. So I block out time on my weekly template to hang out with besties, to catch up with family and to just be alone and read, work on my personal development and quite simply enjoy my own company.
I can go on and on, but I think you get the point. Step 2 – evaluate your goals and dedicate time each week to work on them in bite size chunks.
STEP 3: PLAN TO PLAN
Weird, I know. But the reality is, I allocate time in my weekly calendar to plan the next week! That's right…I plan to plan. So for me, on Sunday evenings I plan all of the choreography and playlists for my fitness classes the upcoming week, I plan my meals and my personal workouts. I also plan "free time" which allows me to handle random events in a structured, efficient way.
STEP 4: FILL OUT YOUR DAY PLANNER WITH SPECIFIC ACTIVITIES ALIGNED WITH YOUR OVERALL WEEKLY TIME STRATEGY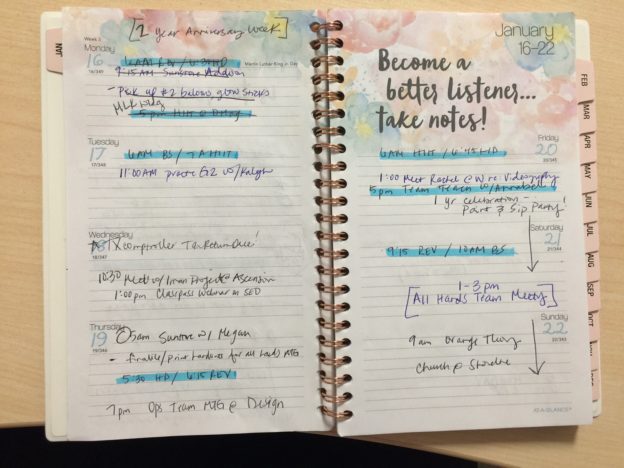 This part is fun. During my "planning time" each week I physically update my planner for the week ahead. As you can see above, my day planner aligns with my overall weekly strategy. I force myself to work on the things only during their designated time slots. This prevents me from getting distracted and makes my life easier because each day I simply wake up and follow the plan for the day.
STEP 5: TREASURE YOUR TIME
You owe it to yourself to achieve your goals and fulfill your dreams, and the only way to make that possible is to spend time working on your goals every single week. That means when people or outside commitments try throw something on your schedule, tell them that that you can get to it during your "free time" not during the time you've designated for working on your goals, your full-time job or other critical activities.
Well, that wraps it up. My 5 step time management approach for slaying your goals. Do you have any additional tips for making every minute count? If so, I'd love to hear them! Have a wonderful week and I'll be back with more life and business hacks next week. xoxo, Brit