Hey Friends – happy 2016! First off, my sincere apologies for the sporadic blog posting. We have been crazy busy at GRIT Fitness with a rush of new members who are ready to get fit and feel fabulous in 2016. I'm not one for excuses, so I'll just say "my bad" and start doing better. Most posts coming – I promise!
To kick off the New Year, my team and I met for an inspirational brainstorming and goal setting session. We chatted about things that were going well at GRIT and things that we can do better. We also spent time articulating our vision of an "amazing fitness experience" and then set some team and personal goals around that vision.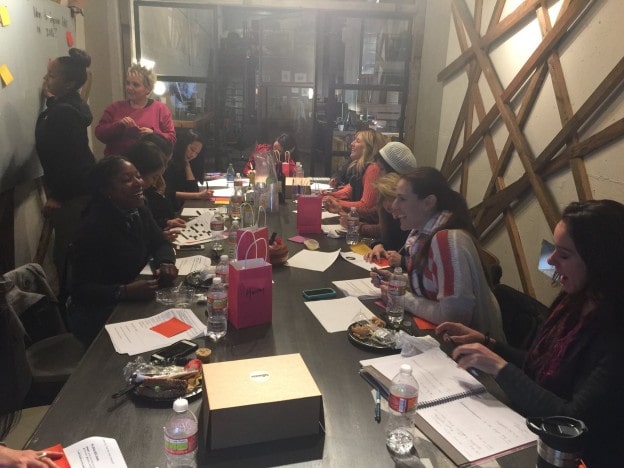 Fortunately, I had a great boss back in my consulting days who taught me about setting SMART Goals: Specific, Measurable, Actionable, Realistic and Time Bound. What are your goals for 2016? I encourage you to also set smart goals – they are more effective for driving to results!
As a small business owner and new entrepreneur I value this quality time with my team. Sure, I see these ladies everyday as sweat and smile during our classes at GRIT, but the most important thing I've learned during my first year as an entrepreneur is that my business success is 100% dependent on the engagement and performance of my team. Without my team – I have nothing! #realtalk
As a self-proclaimed "independent woman" this was a tough pill for me to swallow because a part of me prides myself on developing the concept for GRIT Fitness on my own and getting it up and running by leveraging my skills and experience. But as we continue to grow, there are SO MANY things that I simply can't do by myself and SO MANY things that I just don't know. I have to develop and empower my team to be leaders in their own right, take risks and to share their gifts with others.
While I absolutely LOVE group fitness and feel so blessed to wake up every day and pursue my passion, I get so much more joy from serving my team and creating a foundation for us all to pursue our passions together. I've learned that "it's great to do what you love, but even greater with the great team." Teamwork really does make the dream work. xoxo,Brit