I'm so excited to announce that my company, GRIT Fitness, is partnering with W Dallas Hotel to host the first WHAT SHE SAID women's empowerment conference in Dallas. WHAT SHE SAID is a new global speaker series featuring inspirational women from the worlds of fashion, fitness, music, tech, media and more. W is giving these incredible women at the top of their game a platform to share their personal stories at W Hotels around the world, inviting attendees to mix, mingle in true W style, over cocktails and incredible music!
I've partnered with the W Dallas – Victory for several fitness / social events over the past 4 years including Cardio and Cocktails and Flexin' Flow on the WETDECK!  I love the hip, creative vibe of the hotel so I though it would be the perfect location to host a women's conference!  I mean look at this ah-mazing conference space!  AND we got some awesome local, #GIRLBOSS interior designers to decorate the panels with super chic styles.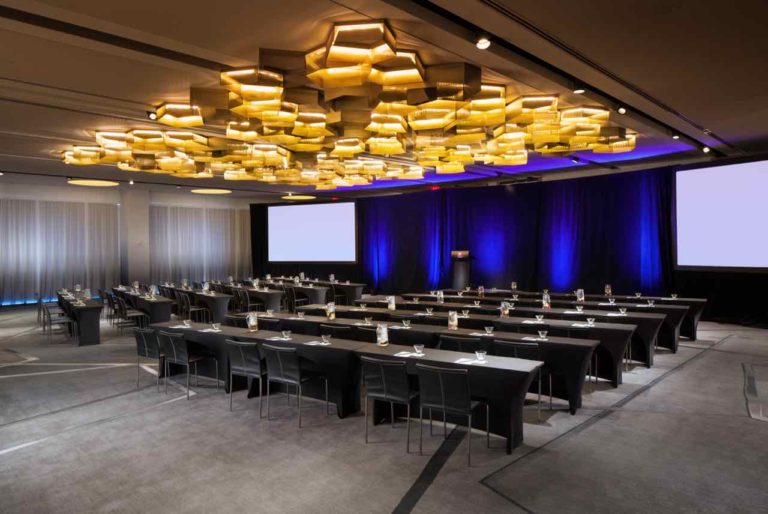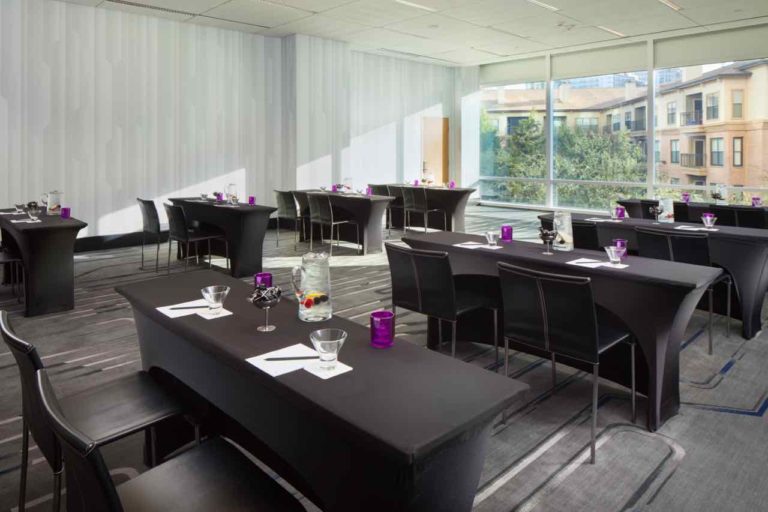 Over 80% of the speakers are members of the #GRITFAM (GRIT Fitness community). I had strong passion to host a conference this year because I want young ladies to connect outside of the gym and have "real talk" about turning their passions into action. This event is not limited to GRIT members ALL ARE WELCOME and we hope you decide to join the fun! Here are the details…
SCHEDULE OF EVENTS
Friday, February 24 – GRIT Fitness Design District
5-8PM Dance Cardio Party and Networking Reception presented by Tory Sport and Dulce Vida Tequila
Saturday, February 25 – W Dallas Victory
9AM Check in, coffee and breakfast bites served
10AM Side Hustle to CEO, Brit Rettig, founder of GRIT Fitness
11AM Goal Setting for Success, Boss Women Who Brunch
12PM Lunch, Expo of local #GIRLBOSS vendors
12:30 – 3:30PM Breakout Sessions
Time to Get Your Money RightAction-planning workshop for getting out of debt
Look Good, Feel Good
Fitness, nutrition and health "real talk" for looking and feeling your best
Winning in the Workplace
A GRIT girl's guide to getting ahead in corporate environments
Creativity to Cashflow
Turning your creative passion into a money-making machine
Succeeding at Start-Ups
What it takes to lead and work at the world's leading startup companies
3:30PM Closing happy hour with live DJ and cocktails
Speakers: Amber LaFrance, Co-Founder/Owner of Culture-Hype PR and Owner of DFW Style Daily; Molly Mathias, Founder of MM Vintage; Leah Frazier, Founder of Diamond Icon and Blogger at BeautyforAshes; Lindsey Kilbride, VP of Sales for Trunk Club; Rachel Kuhr, Founder of Productable.Us and former Innovation Lead for Mark Cuban Companies; Lakshmi Shenoy, VP of Strategy and Business Development for 1871 Chicago; Danielle Moye, Pediatric Cardiologist at UT Southwestern; Megan Lyons, Founder of The Lyons' Share Wellness; Erika Elmore, Regional Diversity Officer for Morgan Stanley; Brittany Madrid, "Living Well" host as seen on WFAA; Liz Stanley, Founder and Blogger for Oh Hey Dallas and model; NaTarra Allen, Personal Trainer at Equinox; Courtney Sanders, Founder of Think & Grow Chick, LLC; Emily Hsieh, CFA, CFP® and Founder of Narrative Financial; Annabel Williams, Regional Sales Director for AIG; Ashley Fincher, VP and Legal Counsel for Comerica Bank; Brittani Rettig, Founder of GRIT Fitness; Yasmeen Tadia, Founder of Fluff Pop and Make Your Life Sweeter Brands; Alison Magdstadt, Marketing Director for Neiman Marcus; Marty McDonald and Ashley Cash, Co-Founders of Boss Women Who Brunch
General admission tickets are $99 and VIP tickets can be purchased for $149 at whatshesaiddallas.eventbrite.com
For a full list of events and featured speakers, visit dallasgritfitness.com/what-she-said.
For questions, email [email protected]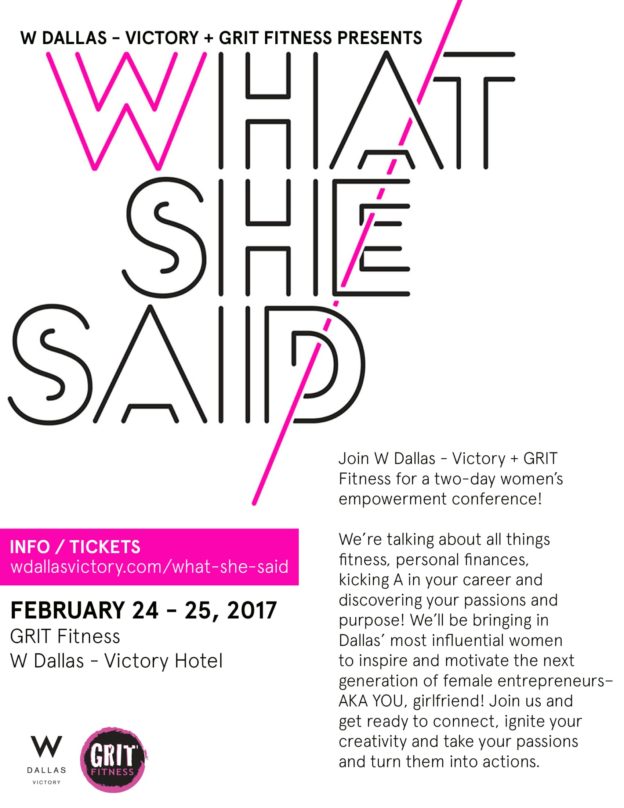 About GRIT Fitness
GRIT Fitness, founded in January 2015 by Brittani Rettig, brings an innovative approach to boutique fitness by providing energetic group classes in a community-focused environment. A carefully curated and enthusiastic staff of instructors teach over 60 classes each week at two studios, ranging from dance and kickboxing to high-intensity interval training, toning and cycling.
About W Dallas Hotel and WHAT SHE SAID
Since its inception, W Hotels has always worked with female icons in fashion, music, design and fitness to enrich the travel experience and provide a platform for emerging visionaries. To take that further, WHAT SHE SAID is a global speaker series hosted by W featuring women across these fields, sharing their stories, and providing opportunities to mix, mingle and network. Previous speakers have included Rachel Zoe, Diane Von Furstenberg, Who What Wear, WNBA, etc. Because everything is bigger in Texas, W Dallas – Victory in partnership with GRIT Fitness is turning WHAT SHE SAID into a two-day women's empowerment conference! The conference will be a day and a half chalk full of robust curriculum for our local female entrepreneurs and girl bosses. We're talking about all things fitness, personal finances, kicking A in your career and discovering your passions and purpose! We'll be bringing in Dallas' most influential women to inspire and motivate the next generation of female entrepreneurs – AKA YOU, girlfriend! Join us and get ready to connect, ignite your creativity and take your passions and turn them into actions.
WHAT SHE SAID – DALLAS | SUPPORTERS & EXHIBITORS Blushington DFW Beauty Guide Dry Sparkling Dulce Vida Tequila Ellevate Network – Dallas Glamsicle Harper & Tucker Jess Peterson – Indpendent Consultant for Rodan + Fields Joiya Johnson – Business & Accounting Services Kendra Scott Krave jerky Ladonna Stein Lemonade by Lauren Lexie Faucher Photography Nike Nikkie Smith Designs NOH8 Peechy Keen Studio Read Between the Lines Rose Pearson – Executive Consultant for Rodan+Fields Simply Elegant Socialite Pink Sparkling ICE Sugar Bear Hair Sugarfina The Cookie Cheff The Iman Project + Lavender & Mint The Lyons' Share Wellness Tory Sport, NorthPark Trunk Club Whitness Nutrition