Image: Purple Feel the Beat Tank (Lucy, $59); Grey Dance Workout Capri (Lucy, $89)
Yo yo – happy humpday & happy October! You guys gave such great feedback on the Labor Day Leg Workout + Lucy Activewear Giveaway that I decided to put together another leg workout and review my new gear from Lucy!
First off, I'm obsessed with this Feel the Beat Tank. I love the look of strappy workout tanks but because I'm on the "bustier" side I always have to wear a sports bra under them during workouts – totally takes away the cuteness. However, this Lucy tank is super supportive and has just the right amount of padding so that I don't nip out. I taught my PiYo class in this tank last Friday and felt comfortable, secure and sexy during the entire class. You can see a pic of me and my class on Instagram.
Next I got the Dance Workout Capris. These are my first pair of workout pants that aren't leggings, fitted capris or booty shorts. Long story short, I love them! I'm planning to wear them again to Zumba this Sunday with a little crop top or sports bra that shows my belly. It's crazy how the older I get the less body conscious I am. I would have NEVER shown my midriff when I was 23. Funny how self-confidence and security grow over time, especially when we learn to really love ourselves… Anyway, I digress. The dance workout capris are great because they fit low around my hips and have a nice wide waistband so there's no "love-handle" action. While they are lose-fitting they aren't baggy, which keeps a feminine look. Most importantly, they are made of an interesting, moisture wicking fabric that can handle my sweat as I shake around on the dance floor. Are you a fan of dance pants?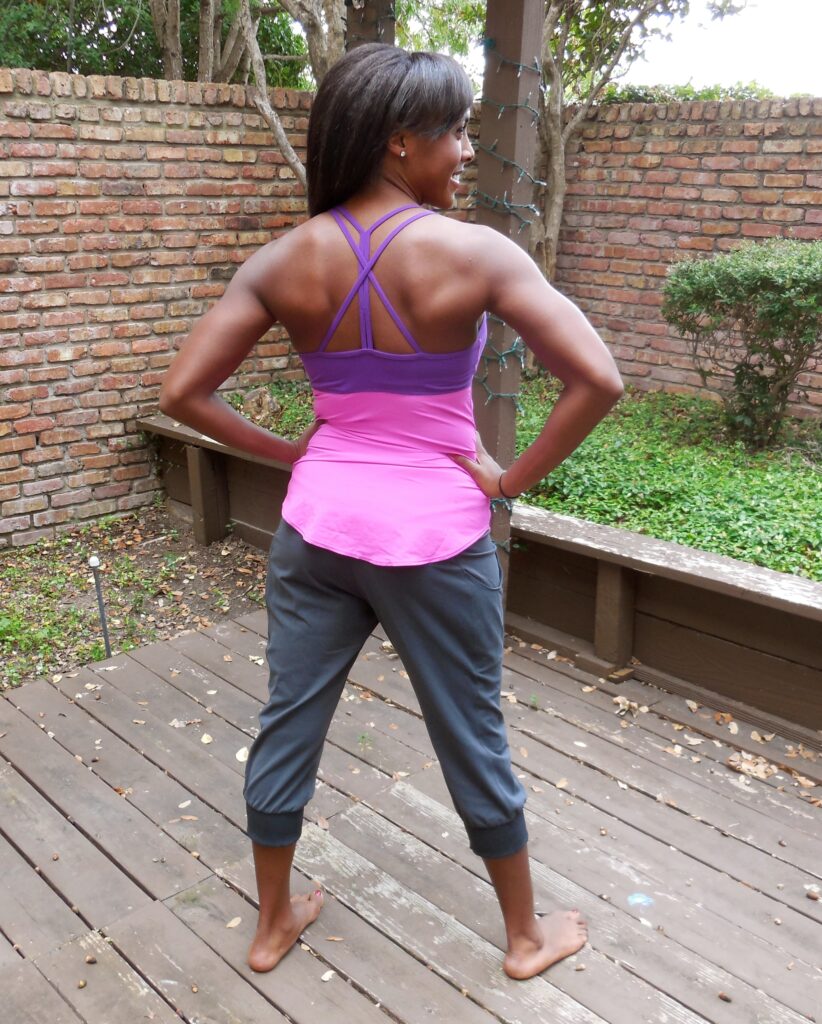 Last but not least, here's your leg workout! I wanted to design something for the dancers out there, so this is my "Long Lean Legs Workout." The purpose of each exercise is to build muscle strength through isometric movements (i.e. holding poses and/or making small tiny movements). If you've ever taken a barre class, you should know about the "little squeeze" or "tiny pulse." This a quick and simple routine that you can to complete in 10-15 minutes. It's a great follow up to a run or other cardio workout. I hope you enjoy the workout and treat yourself to some Lucy activewear!
Lots of luv, Brit