Hey friends! Happy Monday! I hope you had a good weekend. Mine was pretty decent. I did my usual routine of teaching indoor cycling at Beyond Pedaling on Saturday and teaching Turbo Kick at 24 Hour Fitness on Sunday. I also went to a beautiful wedding on Saturday evening for one of my college friends from Cornell. As a pleasant surprise, I ran into one of Turbo Kick students at the wedding! She happens to be a friend of the bride – small world! We had a blast, danced our booties off and ate a lot of wedding cake. Good times had by all. Unlike last weekend, I didn't do any shopping this weekend (tear), but I did get some much-needed time at home to rest and rejuvenate. Did you do anything fun this weekend?
Yesterday my cousin, Juliette (AKA my "sister" because we spent every waking moment together as kids), sent me this hilarious video of her daughter, Violet, doing "post-dinner burpees." Violet is almost 2 years old. Violet's got GRIT. Juliette and her husband, Todd, are cheering Violet on as a she has blast doing the exercise that most of us dread. Check out the video below for a little Monday morning chuckle. Mom and dad are still working on her burpee form, but if that's not raw talent I don't know what is, haha. You can get awesome recipes, words of wisdom and humorous reflections on Juliette's blog, A Life Less Tragic.
So… this week I'm personally going through a MAJOR life transition, which I'll elaborate on next week once it fully registers. In the meanwhile, I'm focusing on some positive weekly goals to help me stay emotionally stable, productive and healthy. I wrote down these goals in my day planner and after looking them over, I figured it'd be a good idea to share on today's post. If these goals help me (potentially), maybe they can help you too…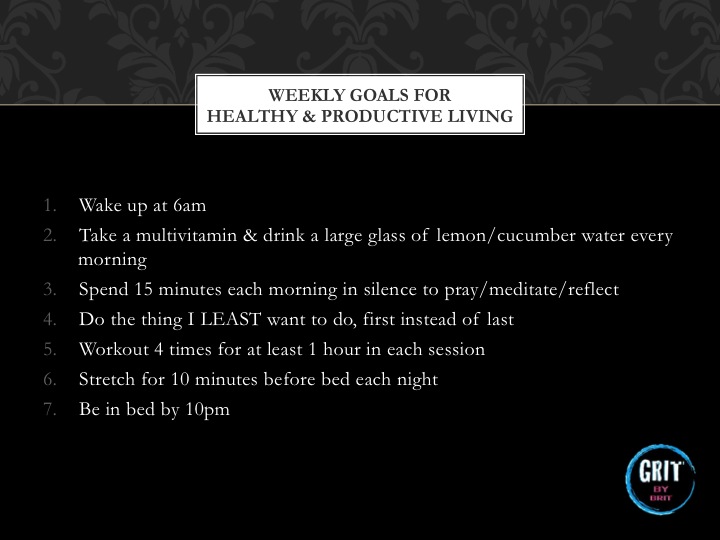 In case you've never tried Lemon/Cucumber water, you can get the details here – it is naturally detoxifying and tasty!
I hope you have a wonderful week and strive to achieve these gritty weekly goals for yourself.
Show your GRIT! Luv, Brit