Happy Humpday! So first order of business, today I'm announcing the winner of my 2nd GRIT tank top giveaway – Congrats JanellMarie! Here's what GRIT means to her, "Grit is the result of feeling my innermost, deeply seeded, pit-in-the-stomach raison d'etre. Grit means respecting and taking care of myself as a complex, accomplished woman who is rising up to the occasion of life. When I feel that grit, I know I'm centered and overflowing with love and drive." I thought JanellMarie's definition was very eloquent and compelling. It made me wanna get up and get after it! Thanks for sharing girl – email your mailing address to [email protected] and your tank top is on its way.
Moving on to today's post… On Monday night I had the awesome opportunity to preview a new group fitness format called Core Fusion Extreme (CFX) at Exhale Spa . Exhale historically specializes in mind-body fitness formats like yoga and barre. However, with CFX they are spicing it up and adding High Intensity Interval Training (HIIT) to the mix.
To celebrate the launch Exhale hosted a fabulous party in partnership with great sponsors including Honest Tea, Kind Bars and Luke's Locker (our local sporting goods store). We also jammed to music from a live DJ, free hair styling from a local salon, snacks, wine spritzers and product giveaways. Most importantly there was a step and repeat banner for photo shoots – YES! You guys know I love to be in front of the camera 🙂 Needless to say, I enjoyed myself before my workout.
When class time arrived, I joined the long line of girls (and 2 guys) as we filed into the intimate barre studio which is now equippd with TRX ropes, boxes, medicine balls, heavy weights and gliders. Our instructor, beaming with energy, welcomed us to CFX and explained the method. Essentially this workout is an high intensity interval circuit that rotates you through 5 workout stations. At each station, you complete 2 different exercises for 40 seconds each. The instructor builds in 2 active recovery segments between stations during which you do core stability and flexibility training. After going around to each station twice, we wrapped up the class with ~5 minutes of lying ab work. Then we cooled downed with a quick stretching sequence. The entire workout is 1 hour and I would estimate that you burn 500-700 calories if you go all out. I heard that the stations (and the overall workout) are the same for the entire month then change at the start of the next month.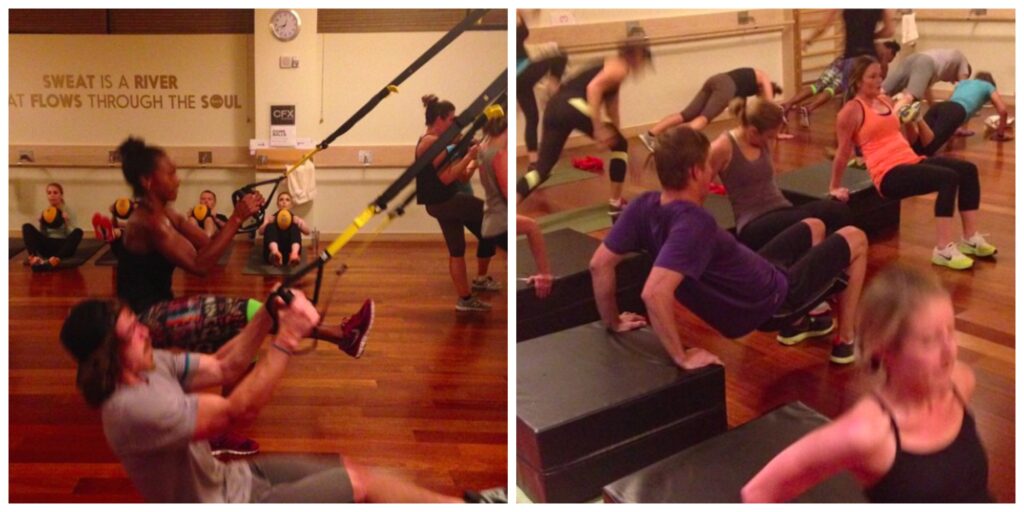 So as certified fitness instructor (and your friend), here's my "real talk" about CFX:
Pros
Pleasant overall experience – beautiful studio/facility/equipment
Great variety of fitness equipment and unique exercises that you wouldn't typically do in a gym or group fitness class
Well informed, energetic instructors
Effective workout that gives you a lot of benefit for 1 hour of your time. Note: HIIT provides both cardio and strength training simultaneously AND blasts calories
You sweat a lot – good things come to those who sweat 🙂
Cons
You have to sign up early or you will be on a long waiting list for a spot in class
The workout can seem a little redundant because you have to complete each station twice, but the energetic instructors and good music make the time fly by!
Overall, I was very satisfied with my CFX experience and I know I got a good workout because my quads are still sore. If you live in Dallas, Exhale is offering free classes for the rest of the week! If you don't live in Dallas, CFX should launch in your city pretty soon. Hopefully you get to take a class. If so, feel free to post a comment and let us know how you like it!
Wishing you an EXTREMEly excellent day!
Lots of luv, Brit