Happy Easter, Passover and Sunday my friends! I hope you enjoyed a nice day with your family or friends.
Last night I enjoyed a lovely Passover Seder hosted by my friend Amanda (author of Glitter & Spice blog). It was my first time to partake in this Jewish tradition and I really enjoyed it. We started off the dinner with a toast of red wine and then listened to Amanda recite traditional readings that recounted the events of the Exodus. The food was delicious – Matzah ball soup, brisket, potatoes and a yummy blueberry dessert – we enjoyed it all! (We also drank plenty of red wine).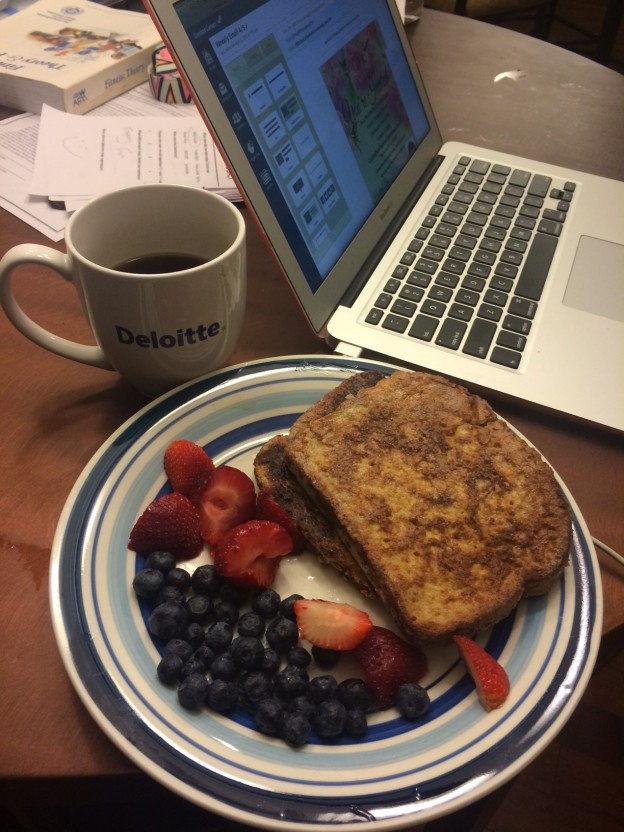 Early this morning I made myself a delicious breakfast and did a bit of work before heading to church with my parents. Yesterday, I kicked off training for our 2nd round of GRIT Fitness instructors – yay! We have 8 in our training class. While I try to keep Sunday's "work-free" I ended up sending some follow-up emails to the group this morning. On the bright side, I'm pretty proud of the whole wheat french toast I whipped up – looks pretty good huh?
Here's a pic of the 8 lovely ladies who started instructor training yesterday! So excited to work with them over the next 6 weeks and coach them to teach their first class!
After church today, my parents and I went out to lunch. Here's a pic of me and my dad. He's not great a looking at the camera but he's a really great dad and friend. There's no way I would have been able to start my business without his guidance, coaching and day-to-day support. My mom's pretty awesome too. She's probably the most positive and encouraging person in the whole world – 4 realz (she also took this pic).
Now I'm cleaning up my place and getting ready for the week ahead. Stay tuned, I have lots of new workouts and playlists to share with you this week. I promise you will like. Talk to you tomorrow. xoxo, Brit