Hello friends – happy Monday and happy (almost) Christmas. Before I head out to spend some down-time with my family, I want to take a moment to tell you how much I LOVE YOU! Writing this blog brings so much joy into my life. What makes the effort most meaningful is knowing that people actually read what I write and even like it (for the most part). Thank you for your emails and messages of kind words over the past 2 and half years. I hope that you have a Merry Christmas filled with good times, great friend and family and yummy food!
On the last note, last night my friend Caroline hosted a FABULOUS holiday dinner. We devoured a delicious, decadent sticky toffee pudding for the dessert. I can still feel it melting in my mouth and have been craving more all morning. So, I searched around for promising British Sticky Toffee Pudding recipe that I could share. I'm going to attempt to make a batch today and bring it to my family's Christmas Eve gathering. It takes only 40 minutes to prepare and serves about 6. We won't talk about the calories 🙂
Sticky Toffee Pudding Recipe
by: Elaine Lemm, British and Irish Food Expert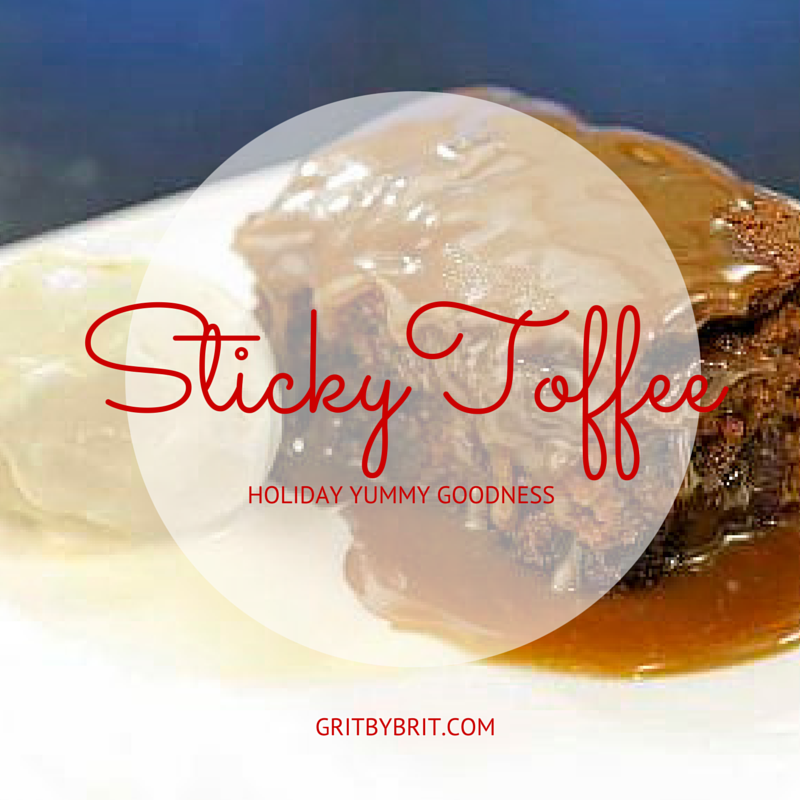 INGREDIENTS
8 oz/225g cooking dates, stoned and chopped small
6 fl oz/175ml boiling water
1 tsp vanilla extract
6 oz/ 175g self-raising
1 tsp bicarbonate of soda
2 large, fresh eggs, lightly beaten
3 oz/85g butter , softened, plus extra for greasing
5 oz/140g demerara sugar
2 tbsp black treacle
3 ½ fl oz/100ml milk
SAUCE
6 oz /175g light muscovado sugar
2 oz/55g butter , cut into pieces
8 oz/ 225ml heavy/double cream
1 tbsp black treacle
INSTRUCTIONS – to make the cake
Preheat the oven to 325°F/160°C/Gas 3
Butter 6, 7fl/oz/200ml individual pudding tins or use an 8″ x 8″ x 2 ½" deep (20cm x 20cm x 6.5cm deep) square baking dish and dust lightly with flour.
Put the chopped dates into a large glass bowl, cover with boiling water, leave for 20 minutes to swell and soften. Once soft, add the vanilla extract.
Sieve the flour and bicarbonate of soda into a large baking bowl.
In another baking bowl, cream the butter and sugar together until light and creamy, don't worry about grains of sugar, they will melt during cooking.
Little by little, add the beaten eggs, mixing really well between additions. Add the treacle and beat well.
Using a large metal spoon carefully fold in one third of the flour, then carefully stir in one third of the milk. Repeat until all the flour and milk is used up.
Add the chopped dates (including any liquid in the bowl) and stir gently. The pudding mixture will resemble a thick batter.
Divide the mixture between the six pudding tins, place on a baking sheet and bake in the preheated oven for 20 – 25 mins for individual puddings or 45 – 50 mins for the large square. The cake should be raised and firm to the touch, if not cook a little longer but take care not to burn. Once ready, remove from the oven and leave to cool in the tins for 10 minutes before turning out.
INSTRUCTIONS – to make the sauce (meanwhile)
Over a medium heat, melt the butter, sugar and half the cream in a saucepan. Raise the heat slightly and bring to the boil stirring constantly until all the sugar has dissolved. Add the treacle and allow the sauce to bubble for 2 mins. Remove from the heat and leave to cool for 1 minute then stir in the remaining cream.
Place a portion of the cake onto warm individual serving dishes, and drizzle generous amounts of sauce over.