Hey y'all! I hope your week is going well. The weather is getting cooler and most people fall out of their fitness routine this time of year! So that's why my team and I at GRIT Fitness host our annual Fall N2 Fitness special offer + class challenge in the month of October. If you live in Dallas, I would love for you to join the fun!
For only $85 you can take unlimited classes at BOTH grit fitness studios (East Dallas and Design District) for the entire month of October. This usually costs $165!!! It doesn't get any better than this y'all 🙂 CLICK HERE to sign up!
PLUS during the month of October, you can also participate in our BLACKOUT class challenge. It's essentially a game of "GRIT Bingo" where you're trying to black out the game card. We've spent a lot of time picking the classes on the card because we want you to get a solid balance of strength, cardio and flexibility exercise to stay in tip top shape this Fall. Check it out!
Not only do you get a great sense of personal pride for completing the challenge, but you also get the newest style GRIT tank top! Keep in mind that GRIT tanks tops can't be bought, they can only be EARNED!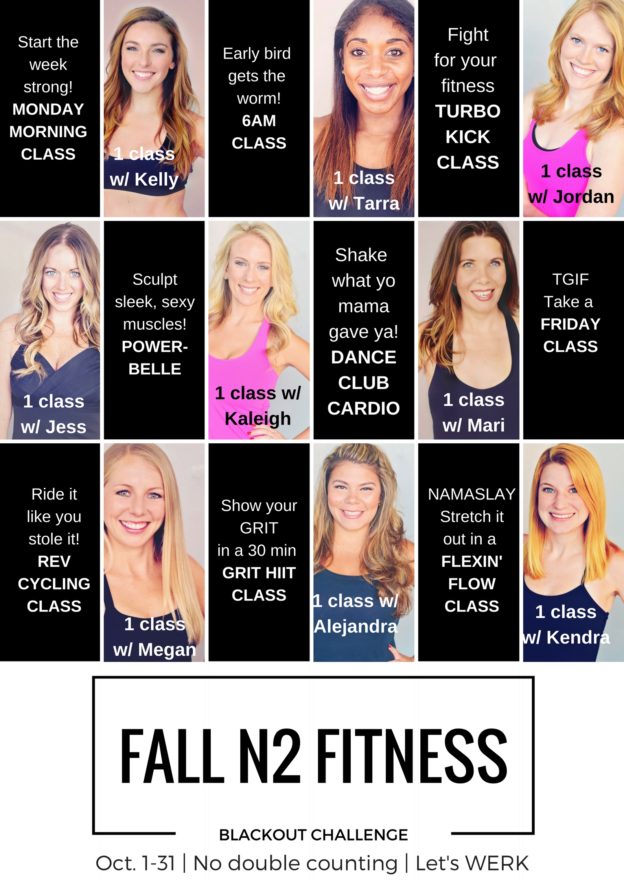 So what are you waiting for? Quit contemplating and join the fun! The #GRITFAM can't wait to WERK it out with you! xoxo, Brit